Use our Maisy Goes to Nursery 'Settling into Nursery Story Bag' activity guide below, to help children settle in to your nursery.
Learning Outcomes: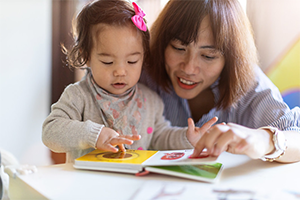 Support transition into nursery
Become familiar with nursery routines and activities
Introduce new/familiar vocabulary
Share feelings about a new experience.
Resources:
Maisy Goes to Nursery story book
Paper/card
Glue
Photos of activities in your own nursery/key person in the room the child will be joining
A cloth bag (or similar)
Resources to match your focus activity
Cuddly animal (optional).
Activity Outline:
To help welcome and settle new starters you can create a 'settling into nursery' story bag that can be taken home and looked at together by a parent and child or by practitioners and child during the initial settling in visits
To put your story bag together you will need a medium sized cloth bag to store your resources to enable them to be taken home
Add the story book Maisy Goes to Nursery and then choose one of the activities in the book to focus on e.g. music – add a musical instrument and a song sheet for parents to use with their child. Or you may choose painting and opt to share some paper, brushes and small palette of paints to use
Create your own key person or room book using photos of staff and the room/environment with the different resources and equipment the children will have access to. Stick the images onto card and stick the pages together to create a book format
Add a cuddly animal that matches a character in the book if you have access to one e.g. mouse, panda, donkey, duck, squirrel
Add a visual timetable to your key person/room book so the child and parent can discuss the similarities to Maisy's nursery routine.
Maisy™
© 1994-2021 Lucy Cousins
Published by Walker Books Ltd. All rights reserved. www.walker.co.uk