Encourage children to become sound explorers by creating a range of sounds using different objects.
Learning outcomes: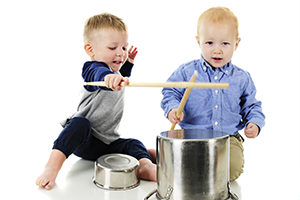 Language development
Make sounds with objects
Tune into a range of sounds
Listen to and enjoy a range of sounds.
Resources:
The resources below are optional and will hopefully spark ideas of what can be used from your own resources in the nursery. Have a look around your rooms and think about what can be used to make sounds.
Plastic bottles
Lentils
Kitchen utensils (pans/wooden spoons etc.)
Musical instruments
Pencils/table top
Tins of buttons
Chopsticks and an upturned plastic bowl
Bubble wrap
Crinkly paper.
Activity outline:
Read the Maisy Goes to Nursery story and once complete look at the instruments that the children used in the story, discuss each one and if you have access to the instruments play them for the children to hear
Look at the other resources together and ask the children to explore the resources to see if they can make a sound. Give children lots of time to explore the different sounds
Talk about the sounds e.g. loud/quiet, harsh/soft
Ask children to vote on their favourite sounds and why they like them
Leave the children's favourite sounds in the room so children can continue to explore the sounds.
Extension ideas:
Use the different sounds to sing along to children's favourite songs and rhymes
Provide a tape recorder so children can record the different sounds and play them back
Record the different sounds and see if children can identify what makes the sound.
Maisy™
© 1994-2021 Lucy Cousins
Published by Walker Books Ltd. All rights reserved. www.walker.co.uk