Bring the story to life with role play.
Learning outcomes: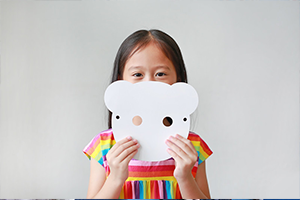 Work with others to act out a story
Use story props to retell a story
Language development
Explore own feelings, making links to own experiences.
Resources:
Maisy Goes to Nursery story book
Long strips of paper/card to make a headband
Images of the individual characters to stick onto the headband (mouse, squirrel, peacock, duck, donkey)
Glue to stick headbands
Props to match the story theme (coats, paint easel/brush, ball, musical instruments, panda, sand pit, toy car, blanket etc.)
Space to act out the story.
Activity outline:
Read Maisy Goes to Nursery to the children. Talk about the story and discuss the story characters, similarities between their nursery activities and what you offer, and the structure of their day – what happened first etc.
Explain that you are going to re-tell the story and ask the children to choose a role (ensure children know they can swap roles at a later point if they don't get their preferred choice)
Once children have their headbands on move to the space you have cleared for the story and look through and place the props together (ideally this should be done outdoors)
The adult should narrate the story as the children act out their roles (when children are confident with the story you can ask the children to narrate the events)
Once complete, swap around the roles so all children have an opportunity to take part.
Extension ideas:
Record the children acting out the story so they can watch it back
Encourage the children to think about what activities they do in their nursery, or staff/peers, that they can add to the story.
Maisy™

© 1994-2021 Lucy Cousins

Published by Walker Books Ltd. All rights reserved. www.walker.co.uk