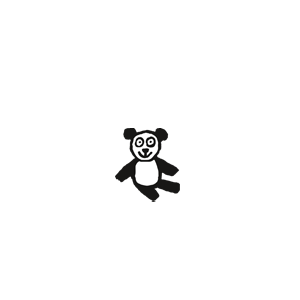 Have fun searching for hidden pandas in and around your environment.
Learning outcomes:
Language development
Sharing and cooperating in their play
Counting
Negotiate space successfully.
Resources:
Pictures of a panda (ideally laminated for longevity and outdoor usage) you may wish to copy the Panda from the Maisy story book or draw your own pandas to decorate
Space to hide the pandas.
Activity outline:
Prior to the activity you will need to copy/draw your pandas and hide them in both your indoor and outdoor spaces in readiness for the children to find them. Keep one aside to show the children what they are looking for
Read the Maisy Goes to Nursery story and engage the children in looking for the panda on each of the story pages
Following the story show the children the panda image and tell their children there are pandas hidden all around the nursery. Ask the children if they think they can find them all (you may wish to tell the children how many pandas you have hidden so they can be counted up at the end and any missing ones can be found)
Encourage the children to go and find the pandas with the adults providing clues if needed
Once all the pandas are found, you can count them up to check you have found them all and celebrate the children's success.
Extension ideas:
Encourage the children to take turns to find hiding places for the pandas for others to search and find
Add numbers to the pandas and create a number line once all ten pandas have been found.

Maisy™

© 1994-2021 Lucy Cousins

Published by Walker Books Ltd. All rights reserved. www.walker.co.uk