Want to feature on our Nursery News magazine front cover?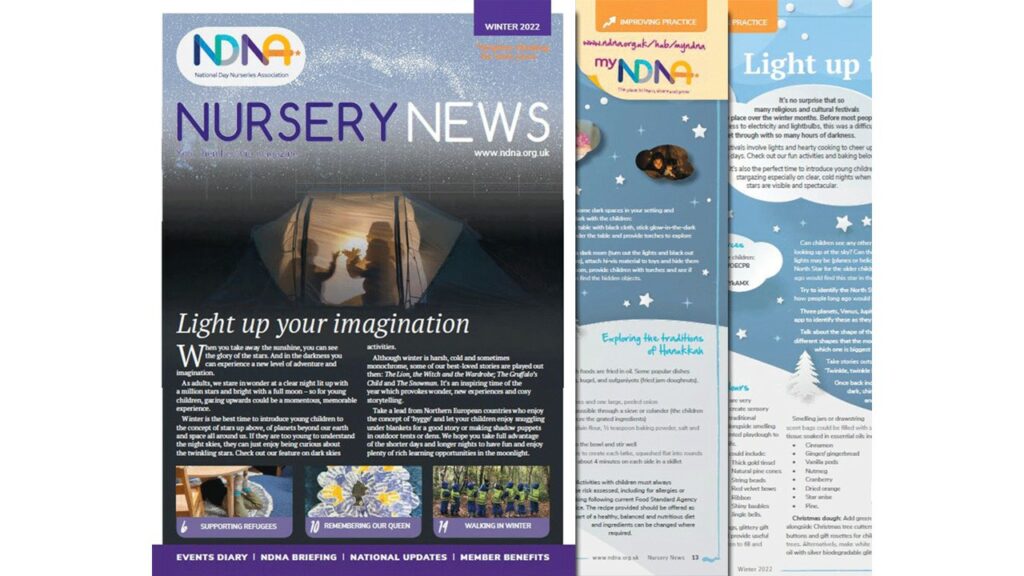 We love all the amazing work you do to support your children's learning and development and as part of our #Firstfiveyearscount campaign, we want to shout about it as loud as we can.
One way is to share images from some of the activities you participate in with your children, so we are running a competition to choose a suitable cover photo for our autumn edition of Nursery News, your membership magazine.
Theme
The theme is transient art outdoors.
Top transient art tips:
Transient art is art that is not fixed or permanent. It is often a collection of objects that are arranged in a certain way only for a short time 
Art can represent an object from the child's experience or a pattern – just let them be creative and express their own ideas
There would be lots of choice of resources eg natural objects such as leaves and twigs, pebbles, flat stones, shells, etc.
Where possible resources in the photos should be natural items .
Activities with children must always be risk assessed. Children must have adequate supervision. Resources and materials must be appropriate for children's age and stage of development.
How to enter
Entering is easy, just three simple steps:
Download a permission form below
Complete permission form(s) for each child from their parent or carer, and each member of staff involved who feature in the photo(s)
Upload your photo(s) of children ideally with at least one member of staff involved, in an outdoor transient art activity or project, plus your permission form(s) using the form below.
If the photo is larger than 16mb please send it via www.wetransfer.com to [email protected] with your permission form(s), membership number and nursery name.
Deadline: Wednesday 26 July
Where your photo will feature
We hope to publish as many entries as possible on our website and on social media as well as the winning photo on the front cover of Nursery News.
We look forward to seeing your wonderful photos!
Nursery News cover competition upload form
Please upload your photo(s) and permission form(s) below.
File too big or prefer to email?
Please feel free to email single photos and permission forms to [email protected] or use WeTransfer to send multiple photos.
Terms & conditions
NDNA is running a competition for UK nurseries to feature a photo on the front cover of Nursery News Autumn 2023.

The competition is available to enter from 4 July – 26 July 2023
We reserve the right to extend the closing date
Open to UK residents only
Entries are open to NDNA member nurseries only
One NDNA member nursery's image will be selected from all valid entries
A valid entry is any photo or photos from an NDNA member nursery which provide contact details and relevant permission forms
Nurseries can enter multiple times for increased chances of winning
Winners will be contacted by telephone or email by 31 July 2023
If for any reason the winners cannot be reached in a reasonable amount of time, NDNA reserves the right to choose another winner
NDNA reserves the right to crop and/or edit the winning image to suit the Nursery News cover format
The winner will have their winning photo on the front cover of Nursery News Autumn
The prize is not transferable and there is no cash alternative
The winning nursery must be prepared to take part in publicity as reasonably requested by National Day Nurseries Association (NDNA)
Our decision is final
Contact details provided will not be shared with any other organisation outside of NDNA, other than the winning nursery which will be passed on to the supplier.