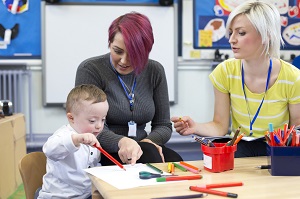 Childcare and early years interviews and inductions
Starting a new role can be a nerve-wracking prospect. This blog post has a few handy tips and tricks to prepare you for interviews and inductions in early years and childcare.
Preparing for an interview
There are a number of things that you will definitely need to think about before going into an interview:
Research the nursery or provider and find out a little bit about their history and what they do – most employers will ask what you already know about them
Find out as much as possible about the nursery or provider's needs – show that what you can offer will fulfil these
Find out about the essential and desirable criteria for the post. Scour your experience for evidence of your competence in the areas required. Include your voluntary work, even if it is a role not directly related to early years, like an out of school club
Think about the competencies, qualities, skills required for the post. Rehearse how you would answer questions about these
If you have an opportunity to do a practice interview, such as a mock interview with someone you know who regularly interviews, then this is recommended – it will give you help with answering questions on the spot and to a high-quality
DO NOT rehearse canned answers out of books. Interviewers have heard all of these before
Be sure to point out your transferable skills, with examples that are not always evident from your work experience, voluntary activities or education.
Interview questioning techniques​
There are a few question types that interviewers will use when asking you questions. These are:
Closed questions – those that can be answered with a 'yes' or 'no', can be used for checking facts, e.g. have you any experience of working with children under the age of two years?
Open questions – those that encourage you to talk about a topic in-depth. These may begin with 'why', 'what', 'how' and 'when' e.g. what experience do you have of working with children under the age of two years?
Probing questions – this can get you more detail and help you to dig deeper, e.g. you mentioned you have worked with children under the age of two, can you tell me more about this and include examples of the kind of play and development you have instigated?
Interview tasks
You may be asked to spend time with the children or to lead an activity. Think of some fun activities that you can do with the children that demonstrate your leadership skills as well as develop the children's skills e.g. maths, literacy, communication, physical etc.
Sign up to myNDNA to access hundreds of unique activities and tips that you can try with the children.
Inductions
Starting a new job is an anxious time for everyone and a good induction programme will help you familiarise yourself with the setting, policies and practice, team, environment, children and families.
An induction period will last for several weeks and new starters are usually assigned a buddy/mentor for support.
Be sure to ask questions and speak up if you are unsure about something. A good employer and colleagues will support you and help to make sure you feel comfortable in the setting. Don't be afraid to make mistakes – everyone understands that you are new and may make errors in the beginning; you will learn from them and improve your practice.
childcare
early years
Interview questioning techniques​
Preparing for an interview
Similar Articles
NDNA Nursery Awards 2024: Spotlight on last year's winner - Overall Nursery of the Year Award
With the NDNA Awards 2024 nominations kicking off to a great start this month, we…
Read more
Top tips for working with children under three
Fundamentally, practitioners need to know and understand how caring for young children and meeting their…
Read more