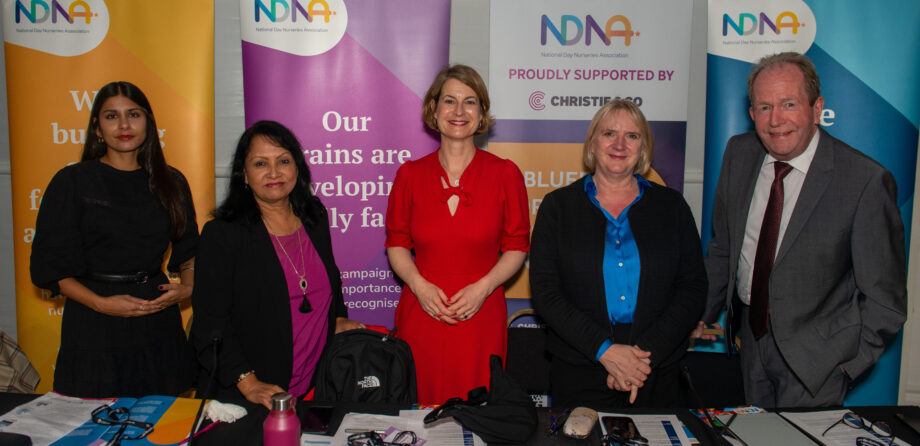 NDNA at Party Conferences: Labour Party Conference round up
It could be the last time Keir Starmer addresses his party before the next general election and NDNA were in Liverpool to see Labour ministers take to the stage to announce their vision for early education and childcare.
NDNA hosted its own event to present a Blueprint for Early Education and Childcare which included a panel chaired by Abby Jitendra of the Joseph Rowntree Foundation, Helen Hayes MP Shadow Minister for children and families, Joanne McCartney Deputy Mayor of London for children and families and Martin Mctague National Chair of FSB. NDNA's CEO Purnima Tanuku OBE, also spoke at fringe events including a panel discussion hosted by Ella's Kitchen to discuss issues relating to child poverty, climate and nature, early years nutrition and education.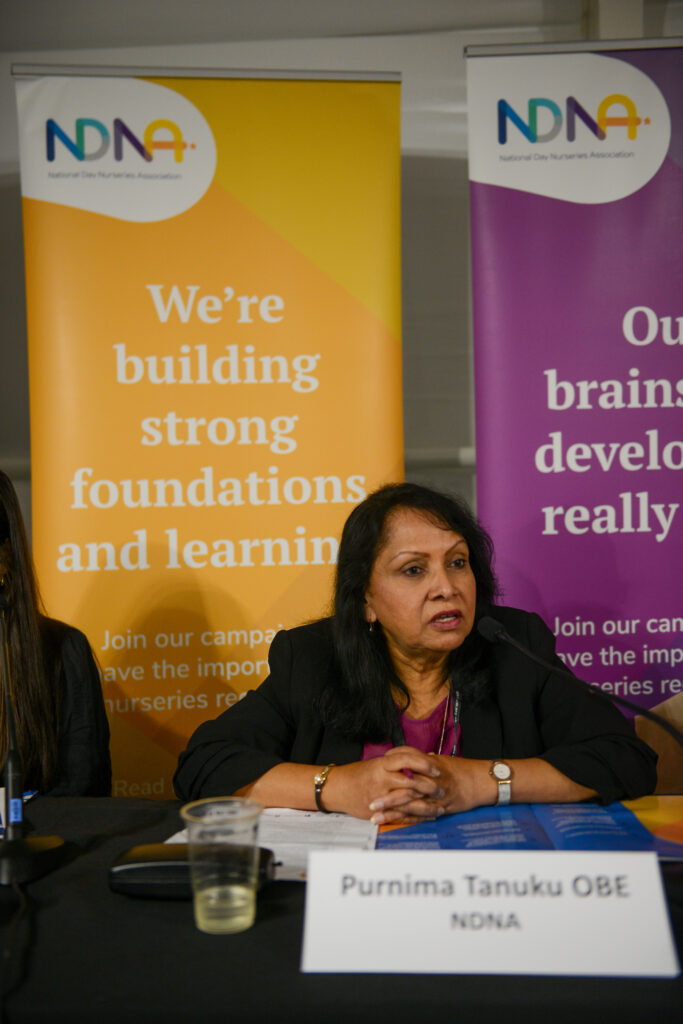 Purnima attended the key ministerial announcements to hear new policy launches first-hand. Policies announced by Labour included a pledge to carry out a year-long review into the delivery of childcare expansion, a new plan for childcare led by Sir David Bell, the expansion of NDNA's Maths Champions Programme across nurseries and primary schools and the introduction of a minimum wage that takes into account the real cost of living.
Bridget Phillipson announced that Sir David Bell, former primary school teacher and former Chief Inspector of Schools will lead and develop Labour's Early Years plan and said:
"Our ambition starts, as education starts, at the beginning of all our lives: our childcare system must be about life chances for children, as well as work choices for parents."
Following Bridget Phillipson's speech Purnima Tanuku OBE, Chief Executive of NDNA said: "For a number of years we have been calling for a detailed review of early years policy because the system is not currently working for parents or providers. We welcome Labour's plans for Sir David Bell to review this and look forward to working with him to provide the critical evidence and challenges facing the sector.
"Three quarters of providers told us that they would need to increase their staffing to be able to offer more children's places, so any plans for extending the funded entitlement further would need to be fully costed with a workforce strategy in place.
"Nurseries and preschools have environments and staff teams designed to meet the specific needs of children in the early years, giving them the best possible start in life. Where there is existing high-quality provision, we must avoid any duplication which undermines the sustainability of providers.
"We are delighted that Labour is keen to expand NDNA's Maths Champions programme into more early years settings and primary schools. We developed this programme to make a real difference to children's learning and outcomes in maths by enhancing practitioners' confidence in teaching and embedding early maths.
"An evaluation by Education Endowment Foundation found that on average children on the Maths Champions programme made an additional three months' progress in both maths and language development. There's also evidence to suggest that this could be as high as six months for children from disadvantaged backgrounds. Support at this early stage makes the biggest difference in their later education, saving money in the long run."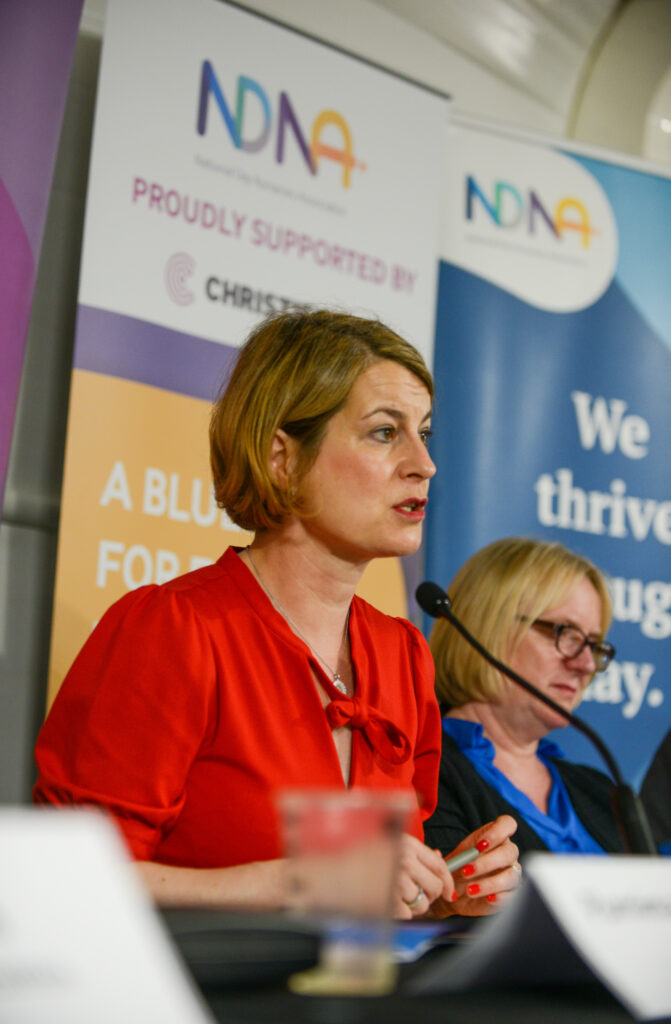 Helen Hayes MP Shadow Minister for children and families attended NDNA's event "Building the Future: A Blueprint for Early Education and Childcare"
Rachel Reeves announced that Labour would fight the next election on the economy and introduce a minimum wage that takes into account the real cost of living saying: "The last Labour Government delivered Britain's first National Minimum Wage. The next Labour Government will introduce a genuine Living Wage. That's how we will give working people respect; that's how we will give working people security, and that's how we will grow our economy too."
Responding to the announcement Purnima Tanuku OBE, Chief Executive of NDNA said: "Rachel Reeves and the Labour Party are talking about being 'ready to rebuild Britain'. Given how important effective childcare is for our economy, they need to give serious consideration to the early years sector.
"Early education and childcare is vital to both our future generation of workers but can also boost women's earnings by £11 billion. Our sector is a vital plank of the economy.
"The early years is the most important stage of a child's development and high quality early education and care can make the most difference to a child's life chances, saving money later on. This quality comes from the knowledge and dedication of the early years workforce. Employers want to recognise and reward the hard work and long hours their staff put in to support children's development but are currently constrained by the low funding rates paid by their biggest customer, the Government.
"The Low Pay Commission has identified childcare employers as fee-takers from Government. Any increase in the National Minimum Wage must be accounted for in the hourly rate paid to providers to deliver funded childcare places."
In advance of conference Labour also pledged to introduce supervised toothbrushing in schools for three-to-five-year olds as Wes Streeting referred to in his speech in Liverpool.
In response to this earlier announcement NDNA's Director of Policy and Communications, Jonathan Broadbery said:
"Moves to support young children's dental health are very welcome as healthy habits formed in a child's early years can make a difference that lasts a lifetime.
"Nurseries up and down the country already have a lot of good practice in place but the data shows more can be done. Targeted support to those in the most disadvantaged areas could help settings do even more for children's oral health. However, for early years settings to keep making a difference to children's development, learning and health and well-being, early education and care needs to be properly funded by any government.
"At NDNA we have partnered with the British Dental Association as part of our Healthy Body Happy Me campaign to promote good practice in oral health. We still have resources available for those who work with early years children."
Similar Articles
Ofsted Complaints Handling – all proposals accepted
The DfE has responded to the Ofsted complaints handling consultation and agreed to implement all…
Read more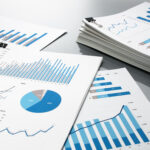 One in five unqualified: Ofsted publishes annual report
In her seventh and final Annual Report as Chief Inspector, Amanda Spielman highlights both the…
Read more