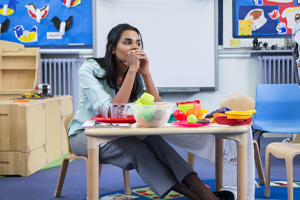 Supporting staff well-being in early years
Work plays a strong role in our mental health and well-being but can also make us unwell. Deborah Somerset, has some top tips for you to support your nursery team and colleagues.
According to the World Health Organisation, mental health is: "a state of well-being, in which every individual realises his or her own potential, can cope with the normal stresses of life, can work productively and fruitfully and is able to make a contribution to her or his community."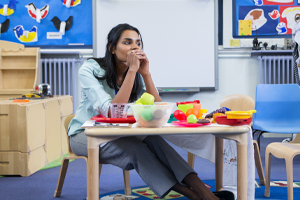 What role does your work as a nursery practitioner play in your mental health?
Mental ill-health is usually caused by a combination of work and non-work related factors. There is a myriad of reasons for mental ill-health, from the pressure of ongoing change at work to longer or more intense hours exacerbated by financial pressures at home, or relationship problems and greater caring responsibilities.
If your nursery is not supportive as a workplace, it can trigger or exacerbate mental ill health with anxiety, depression and stress-related disorders being the most common issues.
Poor work environments with high demands, low levels of individual autonomy and poor support can undermine the health and well-being benefits that 'good' work can bring.
How can you support your colleagues?
Your colleagues may already understand the most effective way to bring out the best in each other, from not piling on the pressure but engaging and supporting them to work more effectively.
Striking the balance between what is considered appropriate results or output, and robust mental health is tricky and relies on a strong understanding by your nursery and well-trained line managers, in particular. They need to know about creating and maintaining conditions that support and encourage good mental health, as well as recognising the signs of ill health and providing appropriate support.
The stigma associated with mental health remains a major obstacle to the effective diagnosis and treatment of mental health conditions. It can prevent employees from talking to colleagues or managers about their problems because they fear discrimination. It may even prevent them from acknowledging to themselves that there is a problem.
Tips for supporting the well-being of your colleagues:
Develop a work culture where everyone is treated with respect and bullying and harassment are not tolerated
Develop a culture where open and honest communication is encouraged. Support and mutual respect should be the norm
If possible, give employees more control over their work and how they do it
Ensure employees have the correct level of skills for the job they are required to do
Ensure that the team has a manageable workload
Where possible, create flexible working hours to try and support a work-life harmony
Audit the work environment for physical stressors and try to eliminate them e.g. poor lighting
Check out Health and Safety Executive (HSE) Management Standards risk assessment process documents, to help identify the extent and causes of employees work-related stress
HSE, CIPD and Investors in People have developed a Stress Management Competency Indicators Framework of tools.  This allows managers to assess whether there may be some behaviours of concern
As a manager or supervisor, support your setting by being aware of mental health issues and attending appropriate training if required
Mental Health First Aid (MHFA) England Instructors can train staff to become accredited MHFA Champions, by delivering a two-day course. This raises awareness of a variety of potential mental health issues and how to address them.
early years
mental health
support staff
Supporting Staff Well-being
well-being
Similar Articles
Is your nursery the next Scotland Nursery of the Year 2024?
Nominate your nursery for the NDNA Nursery Awards 2024 We hear from last year's winners…
Read more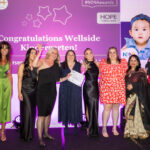 NDNA Nursery Awards 2024: Celebrate the stars of your nursery
We are pleased to announce the launch of the NDNA Nursery Awards 2024, which are…
Read more