1 in 10 parents believe nurseries are properly funded
A survey by a cross-party group of Parliamentarians finds serious doubts about the Government's financial support for early years providers.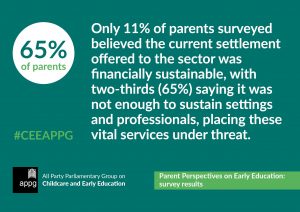 Just one in ten parents believe that current levels of early years funding are enough to enable nurseries, pre-schools and childminders in England to remain financially sustainable, a new survey conducted by the All-Party Parliamentary Group on Childcare and Early Education has found.
The online survey of more than 1,300 parents in England, conducted at the end of January 2021, found that just 11% of parents surveyed believed the financial settlement currently on offer to the early years sector is enough.
The survey also revealed concerns about the impact a lack of sector support could have on parents' ability to work. When asked about the possible effect of being unable to access their early years setting, 72% of respondents said they would struggle with work-life balance, while nearly half feared it would lead to a potential loss of income (47%) or cause them to lose out on vital career progression (45%). Over a third (36%) said that a loss of early years care and education would prevent them from being able to return to their physical place of work, highlighting the extent to which a lack of support for the early years could put the country's economic recovery at risk.
Given that the vast majority (90%) of survey respondents were women, any underfunding of the sector could unfairly penalise the female workforce in particular, should quality childcare and early education services be forced to close as a result.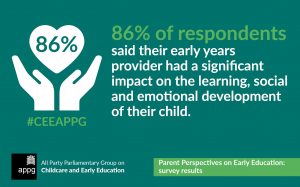 The APPG's survey also found that:
97% of parents agreed that providers had a significant impact on the learning, social and emotional development of their child, reflecting how valuable early years settings are to children's learning and development.
86% of respondents strongly agreed that their child's or children's early years setting had a significant impact on children's learning, social and emotional development.
Just 36% of parents felt the Government was providing sufficient financial support for parents and carers with children under five.
91% of parents agreed that early years professionals should be paid on similar pay scales to school teachers, with 65% strongly agreeing.
The survey was conducted as part of the APPG's annual Childcare and Early Education Week, which took place during the third national lockdown in January 2021. The APPG hopes these results will help guide the Government towards providing vital additional support to the early years sector as the country emerges from lockdown and to carry out a full review of early years funding to ensure a sustainable funding model for the sector, to ensure the survival of early years settings that provide vital support to families across the country.
Commenting on the results of the survey, the APPG's Chair, Steve Brine MP, said: "The early years sector is the fourth emergency service. Early years professionals have worked tirelessly on the front line during this pandemic, alongside other educators, to seek to minimise the negative effects on the learning and social development of children during the COVID-19 pandemic. They deserve our gratitude and support, but parents have sent us a clear sign that they feel there is much more work to be done.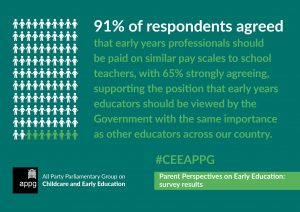 "The APPG on Childcare and Early Education is calling on the Government to hold a comprehensive review of early years policy to identify reforms, including to funding streams. The sector is crying out for help to continue doing its vital job in both supporting children and helping their parents return to work and help rebuild our economy."
Purnima Tanuku OBE, Chief Executive of NDNA, said: "The Covid-19 pandemic has highlighted what we already knew, that high quality early years education and care is absolutely vital for children's development as well as enabling parents to work.
"This new research shines a light on parents' concerns about their own children's nurseries and the impact on families if settings were unable to remain open due to government underfunding.
"It's clear from these responses that parents really value high quality care for their children but are worried that the Government does not value enough to pay for providers rates that even cover their running costs.
"If the Government is serious about levelling up and supporting the country's economic recovery, they need to make sure they are properly funding early education and childcare so nurseries can continue their vital work and be there for parents when they need them."
England
childcare
early education
early years
England
Similar Articles
Ofsted Complaints Handling – all proposals accepted
The DfE has responded to the Ofsted complaints handling consultation and agreed to implement all…
Read more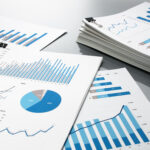 One in five unqualified: Ofsted publishes annual report
In her seventh and final Annual Report as Chief Inspector, Amanda Spielman highlights both the…
Read more