England: Early years careers
#Firstfiveyearscount
Working with children in their earliest years is incredibly rewarding.
You can make a difference that lasts a lifetime.
Approximately 90% of a child's brain develops between the ages of 0 and 5 so a high-quality early education can be life-changing.
If you want to help make these first five years count, there are a number of ways to embark on a career in the early years sector. Find out everything you need to know about early years careers below.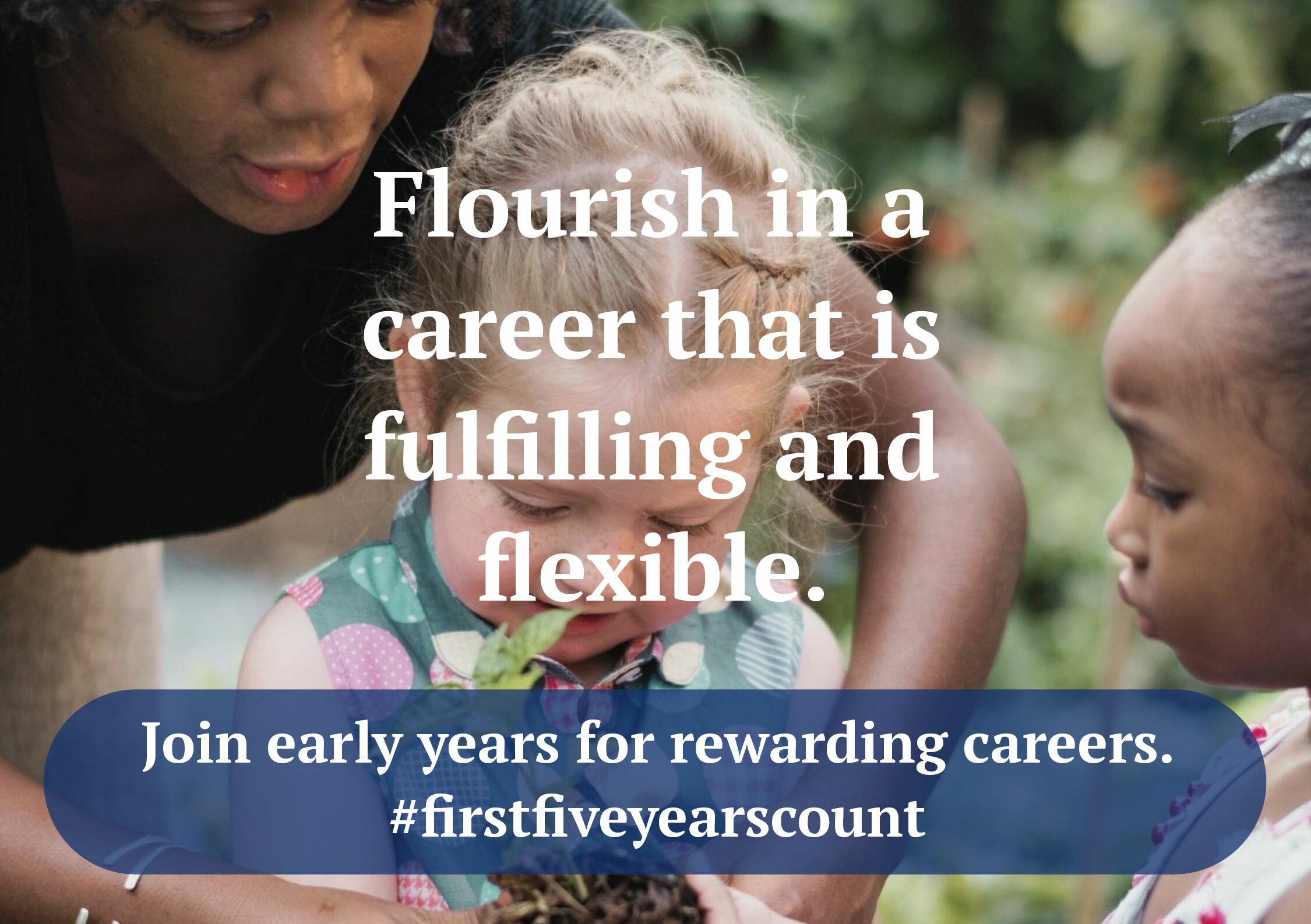 If you enjoyed this video, please share to help spread the word on the impact of the early years sector.
Where do I start?
Approximately 90% of a child's brain develops between the ages of 0 and 5 so a high quality early education can be life-changing.
If you want to help make these first five years count, there are a number of ways to embark on a career in the early years sector, including:
Applying for a role directly (with or without a qualification)
A college course
An apprenticeship
Working toward a school based or post 16 qualification, e.g. T Level qualifications
Volunteering.
Whether you have a formal qualification in early years education and care or not, there are lots of opportunities for new entrants, whether you enter directly from formal education or through a career change from a different sector, perhaps later in life.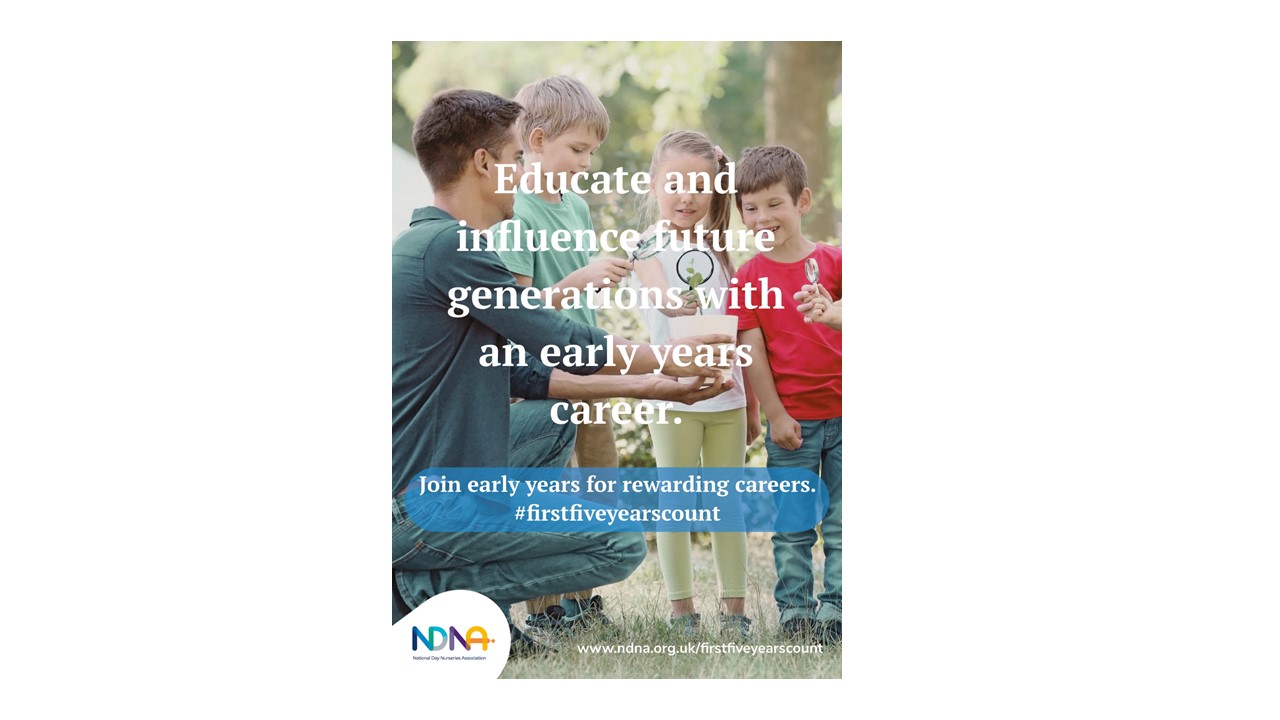 Where will my career in early years take me?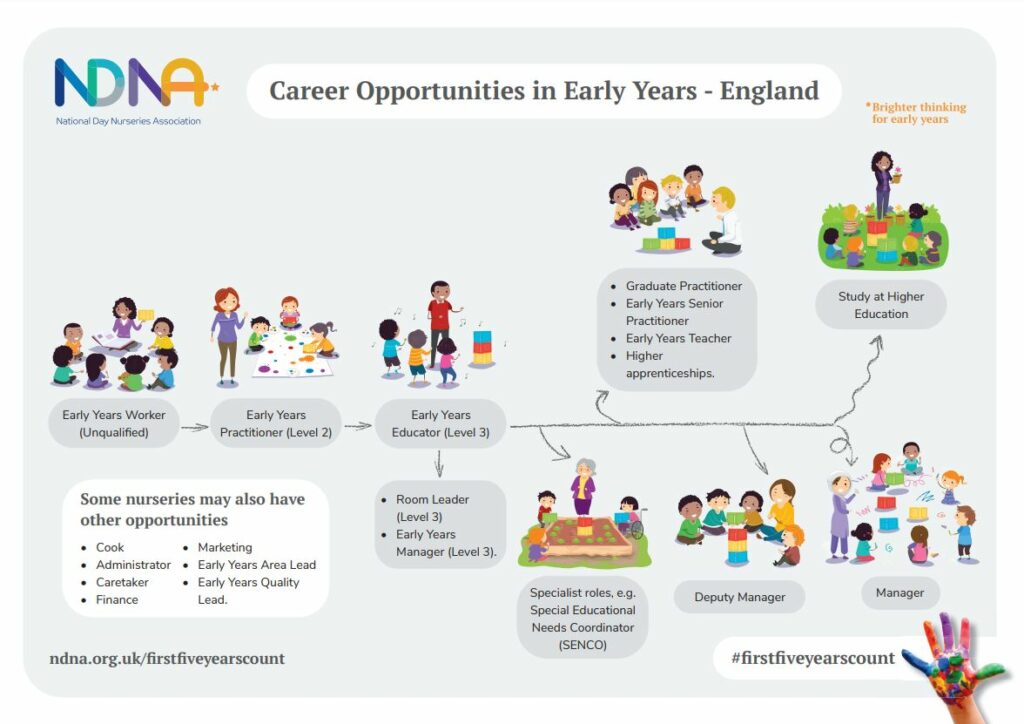 If you do enter the early years sector without a relevant qualification and you wish to progress your career in early years, there are options available to you. If you are not able to access programmes such as T Levels or apprenticeships due to funding, you can apply directly to the nursery setting and they will be able to support you to get a qualification, whilst working.
Qualifications will give you a grounded understanding of how children develop and how positive interventions with children during their first five years help them to become lifelong learners and positive citizens.
Dependant on experience and prior learning, there are a number of options available if you want to progress with further qualifications. You could take Level 2 or Level 3 early years qualifications, an early year's teacher/early years degree or higher apprenticeship and progress to room leader, deputy manager, manager or even a nursery ownership.
As you progress, as a qualified early years professional, you will be able to specialise in working with children who have difficulties with learning, who have physical disabilities or additional support needs, or to support practitioners and children on the importance of nutrition and physical activity.
If you choose to progress through qualifications you can also take specialist qualifications for specific roles, such as a Special Educational Needs Co-ordinator (SENCo) or Physical Activities and Nutritional Co-ordinator (PANCo).
Working with children in the early years sector is incredibly rewarding.
To find out what training is available in your local area, speak to your local college, training provider or local careers service.
If you are looking into an apprenticeship, the government website has all the information you need. You can read more here.
You can use the 'find an apprenticeship' page to search, save and apply for apprenticeship opportunities.
This service is also used by employers who wish to advertise current apprenticeship opportunities, making it easier for you to find a local employer.
T Levels are full time study programmes and an alternative further education pathway. T Level students spend 80% of the course in their learning environment and the other 20% is in an industry placement, where you can put skills learnt into practice.
If you are aged 19 or above, you may qualify for an Advanced Learner Loan to help pay for your course fees. Most learners aged 19 and over studying at Level 3 or Level 4, will qualify for these loans from the UK government. It's easy to apply, your household income isn't taken into account and there's no credit check. You won't have to pay anything back until your income is over £27,295 a year.
If you're studying a Level 3 qualification, you might be eligible for an 'Adult Education Budget' grant instead of an Advanced Learner Loan. If you get a grant, you do not need to repay it.
Once you have decided on the qualification you wish to take, ask your college or training provider about grants before you apply for a loan.
Find out more through this link Advanced Learner Loan: Eligibility – GOV.UK (www.gov.uk) 
If you want to work with children, an early years apprenticeship could be the perfect first step in your career. It's also an entry point to becoming a fully qualified Early Years Teacher.
Find out more about Early Years Educator apprenticeships, find up-t0-date information on
entry routes and guidance seeking a career in the sector.
Download case studies from Early Years Educators here.
Roles available to me in early years
All businesses are unique and there are opportunities for both practice-based and non-practitioner or managerial roles in the early years sector.
These include roles such as cook, admin staff, finance and unique sector specific roles, such as quality improvement or curriculum lead.
We have listed typical roles that you would find in almost all nursery settings below, alongside the qualifications required for these types of jobs.