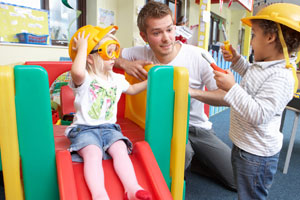 Your guide to a career in childcare & early years
Find out all you need to know about a career in childcare.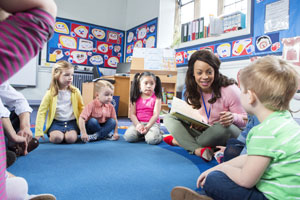 The importance of high-quality childcare
From the moment children are born, they are constantly learning about themselves and the world around them. If you have that natural love and fondness for every little aspect of curious children then you'll find that this is definitely the right career for you!
The first five years of children's lives are the most important period of their education and development. If active minds are nurtured in safe and structured ways, children will do better in later life. Where children access high-quality early years experiences, this can also help make the difficult transition into school much easier.
Starting a profession in childcare is the chance to support children as they learn, develop and prepare for school. It's a career path that could see you go into a local nursery, work in a school environment, become self-employed, be a teacher, lecturer, social worker or even a speech and language specialist.
Types of early years settings
'Early years' describes children aged birth to five. 'Settings' are the range of childcare providers that a child may be placed with by parents for a number of reasons, including providing them with secure environments to enable parents to work or learn.
Some providers might be small, private centres with only 20 or so children, whilst others could be larger chains. They might be run by private companies, community organisations, or be linked to a school.
Day nursery
If you are working in a day nursery you will be helping children from birth to four to develop and learn.
You could work in a:
Privately owned nursery
Maintained setting run by your local authority
Schools offering childcare as part of their extended offer.
Private settings
Many private settings open from 8 am to 6 pm (or even longer) all year round to accommodate the needs of working parents, so you will need to be able to be flexible
Due to the long opening hours many private settings operate shifts to cover early starts and late finishes
Some maintained childcare settings operate in the same way; however, some may open term time only or open for shorter hours during the day.
Schools
Settings in schools are often called pre-schools and this can mean that they are not caring for and educating children of all early years ages e.g. birth to four and could mean you are caring for and educating children between two and four (or five depending on the structure of the setting)
Pre-schools often open for sessions e.g. morning and/or afternoons and some may have lunch clubs.
Playgroups
Might often mean they are organised by a community or voluntary groups and run from community centres, church halls or even out of a school
Opening times for childcare will vary depending on the setting. Many playgroup settings open for three hour sessions
Might be independently run or form part of the early years (birth to four year old offer)
Known as out of school clubs or play schemes that operate before and after school or during the school holiday.
The role of a playworker is very active and can be very varied. This role might involve working with children and young people aged between four and 13 (maybe even up to 16 in some instances) and is mostly early morning, evening, during school holidays and weekend work.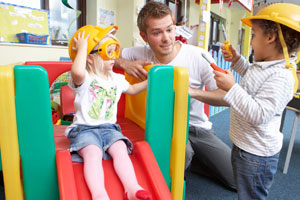 Early Years Foundation Stage
The Department for Education (DfE) has implemented something called the Early Years Foundation Stage (EYFS) framework.
This framework determines how childcare providers must deliver services. The EYFS provides practitioners with a structure in supporting children's development and is part of compulsory framework for children from birth to five, in both childcare and formal educational settings (school) through to the end of their reception year.
Skills and qualities for working in childcare
When you are considering a career in early years it is important for you to understand the skills and qualities required for working with babies and young children.
Skills and qualities needed include being:
An active listener and a good communicator
Transparent and trustworthy
Caring and empathetic
Patient and respectful
Observant
Inclusive
Encouraging
Imaginative
Reliable, flexible, committed and motivated, professional
Responsible
Have a good sense of humour
Able to work as part of a team.
One thing you need to consider is that each child is unique and so you will be dealing with different kinds of behaviours, needs, and wants. A huge amount of patience and understanding is required for someone who wishes to enter the early years as a career.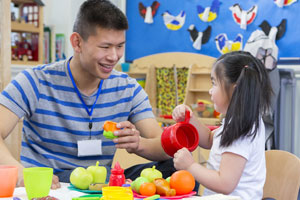 Safeguarding
Safeguarding our youngest children is essential. The first priority for any childcare employer is to check that those entering early years as a profession are suited to working with children.
Before you start, anyone working with children must have an enhanced Disclosing and Barring Service check (DBS) and must disclose if they are living with anyone that is barred from working with children.
Employers will also obtain references and ensure that new recruits are satisfactory before allowing them to work with children unsupervised.
Training and qualifications
Childcare work can involve dealing with children of all ages, from babies and toddlers to older pre-school children.
You might start your career as a nursery assistant without any qualifications, but you will need to train and study to a minimum of level 2 or level three qualifications to allow you to progress and becomes a qualified nursery worker. From there, you might even be able to progress into supervisory and managerial roles.
It does not matter where you are starting a career in early years as there is a range of qualifications available.
And finally…
Those working in early years are committed practitioners that enjoy their work, reflect on the impact of their engagement with children and take responsibility for improving on what they do through regular participation in their own professional development.
The people who work in childcare genuinely love working with children and play an integral role in helping them to develop through fun activities. As a practitioner, you will laugh, smile and your day might be just as fun for you as it is for the children. Furthermore, you will have the immense satisfaction of seeing children develop skills and knowledge that they will use throughout their entire lives!
Childcare is an exciting, rewarding career and as you can see there are plenty of routes available for people who want to work with children.
Further support:
career in childcare & early years
childcare
early years
high-quality childcare
Safeguarding
Skills and qualities for working in childcare
Training and qualifications
Types of early years settings
Similar Articles
How does winning our Nursery of the Year award benefit your nursery?
Nominate your nursery for the NDNA Nursery Awards 2024 Our prestigious nursery awards acknowledge, reward…
Read more
Birth to Five Matters: what is it?
What is Birth to Five Matters? According to Nancy Stewart – Early Years consultant, Project…
Read more