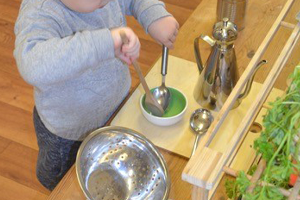 Toys or no toys at nursery?
More and more nurseries are beginning to reassess their use of certain or all toys in their setting.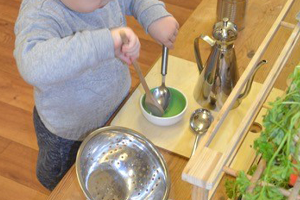 No toys – or no plastic toys – can mean new enriching learning opportunities for children and also benefits the environment. This is why, among other reasons, some nurseries have chosen to get rid of plastic toys, whilst others have decided to remove toys completely, replacing them with real, everyday objects.
A child's imagination is a magical place so a box can be a spaceship, a tin a drum and a stick a magic wand. Just think about what your children could do. Children at one nursery reported that they didn't miss their usual toys and preferred the selection of objects given to them.
Nursery workers observed children spending more time outside, talking to each other more and being more creative as a result.
What inspires nurseries to go toy-free?
There are many different reasons why a nursery could choose to go toy-free.
Catherine Rodgers, manager of Care Chiefs Highfield Hall Children's Nursery in Greater Manchester, feels that most plastic toys can only be used for their intended purpose and can restrict a child's thinking and learning. Care Chiefs want to inspire their children's imaginative play and enable them to develop their creativity through the belief that open-ended and authentic resources help to stretch imagination helped spur their decision to remove plastic toys.
At a time when people are making more conscious decisions concerning the future of our planet, nurseries see ditching plastic toys as a small act to help the environment.
Removing plastic doesn't just stop there for some nurseries as it extends beyond playrooms.
Jacqui Hannaby, manager of Granby Nursery in Worksop that have removed plastic toys, believes real objects offer new experiences for children and inspire them in different ways. Plastic toys would act similarly if dropped on the floor and make a similar noise, whereas a china teacup, for example, would smash and create a very different sound.
This helps promote communication as you can discuss what happened.
How do nurseries go toy-free?
Some nurseries have implemented it overnight, a few gradually, others opened with this ethos in mind and some nurseries have decided to experiment and give it a go for a shorter period of time.
Little Angels in Uppingham set a goal to be completely toy free by August 2019 and then over 12 months set about making it happen with subtle changes.
Nursery owner Lucy Lewin says:
"Teaching the children respect for the new resources is key but not showing them what to do, that defeats the idea of loose part play."
She also confirmed the success of their project.
Other nurseries have decided to remove just plastic toys and left other toys, whereas some are beginning to implement this approach into their setting.
Parents and staff members at some nurseries, as well as local businesses, donate unwanted items such as tea sets and boxes so nurseries have a steady flow of exciting objects for children to experiment with.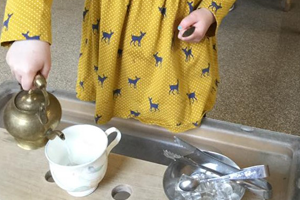 How might children and parents react to a toy-free nursery approach?
Nurseries report a lot of positive feedback from parents and some parents have started doing something similar at home.
Jacqui of Granby Nursery said:
"Parents were curious and onboard from the beginning. We explained that we wanted to teach the children that they can learn with anything and how we had seen a huge difference in children's learning when they were using items that they were interested in."
Parents also find that children are counting more at home and using real objects in a sense of play. They also share what they're doing at home with their own children to inspire nurseries and others in the setting.
Little Angels say that children love being toy-free and have completely embraced it.
What do the children do now?
Children at Care Chiefs Highfield Hall have access to a wide range of objects – the homemade playdoh station is a massive hit.
Other objects include a pasta machine, food cutters and natural resources such as herbs, flowers, pinecones and pebbles. The nursery likes to utilise unused space, one project was a 'post office' complete with parcel wrapping, stamps, till, telephone and a selection of leaflets and stationery.
Other popular choices from nurseries include potion, perfume and flower stations and tinker trays.
Without access to traditional toys, some nurseries say that a child's favourite thing to do or play with changes daily as they have so many exciting opportunities.
What are the benefits of a toy-free nursery?
Some believe that children's learning benefits from removing toys and they have a more profound love for play and learning.
Lucy of Little Angels said:
"The benefits of choosing to use real objects are a deep level of learning that toys just can't facilitate. Open-ended resources are only limited by imagination and time. They are completely priceless as they have no preconceived ideas built into them.
"Financially it has meant staying open and viable. We go on adventures to find exciting things to take back to nursery which in itself is allowing children to explore the awe and wonder of nature and the community."
Granby Nursery is now more aware of what they purchase, they upcycle a lot more and use resources in multiple ways. Manager Jacqui believes the setting has a much calmer feel and appearance without brightly coloured plastic.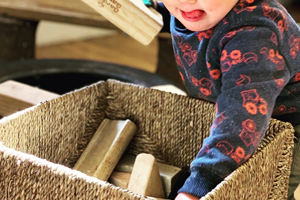 Tips and tricks for going toy-free at nursery
The nurseries in this article, which are all at different stages in their varying journeys, share some of their best tips to either remove toys completely or just remove plastic toys in your own setting.
Get your team and practitioners on board, this was something that Jacqui of Granby Nursery said was important as she wanted to ensure everyone was on-side and understood how removing plastic toys would fit in with the nursery's pedagogy and embed lasting knowledge
Visit nurseries that have done it or something similar in order to gain inspiration, this can also act as part of your ongoing research
Catherine of Care Chiefs Highfield Hall Children's Nursery recommends sourcing products at car boot sales, with your best bargaining head-on, and even recycling items such as bubble wrap and cardboard boxes
Lucy of Little Angels believes that a toy or plastic toy-free approach won't work in a setting where children are not the centre. Practitioners must be sensitive to the needs of children and able to reflect in action to continually improve the experience.
childcare
early years
go toy-free
no plastic toys
No toys
nursery
Similar Articles
NDNA Nursery Awards 2024: Spotlight on last year's winner - Overall Nursery of the Year Award
With the NDNA Awards 2024 nominations kicking off to a great start this month, we…
Read more
Top tips for working with children under three
Fundamentally, practitioners need to know and understand how caring for young children and meeting their…
Read more