Life as a nursery & early years apprentice
Apprenticeships are a great way for young people wanting to work in early years and childcare to build and develop their skills and knowledge and open the door to a rewarding career.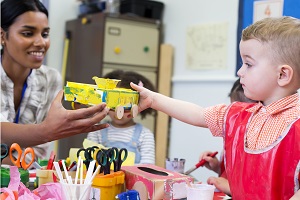 How can I qualify to become an early years practitioner?
Most childcare qualifications can be gained while you work in a setting. Apprenticeships are a good way to gain practical experience on the nursery floor and understand which areas you need training and qualifications. There are a number of local colleges, private training providers and national distance learning centre's that offer all qualification levels.
Once you start working in a childcare setting you will be eligible for the full range of training opportunities offered. There are lots of courses to support your development and to ensure you have the skills to help children reach their full potential, support their play, and protect their welfare.
What is life like as an apprentice?
Iram Shafiq was an apprentice at NDNA member Hillfoot Nursery in Glasgow. This interview gives an insight into her experience as an apprentice.
How have your skills progressed in your apprenticeship so far?
I think my skills have definitely progressed because now that I know the nursery routine I am confident and keen to follow and adapt. When I started, I wasn't sure how things were done, what the children's names were and who their parents were so I tended to be shy. Now I am confident in what I am doing in my environment and have got to know both the children and parent's needs.
What's the best thing about being the least experienced member of the team?
I get to learn and share my knowledge based on my new experiences with the children. I thoroughly enjoy my role. My past experiences encouraged me to get into childcare – I have two siblings with autism, one of whom I was a carer.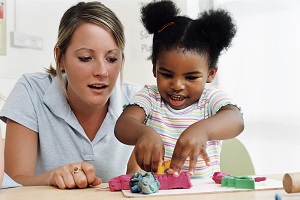 What parts of this job were really hard to start with? What was the easiest?
Getting to know all the children, parents and staff was hard. The easiest part was to work as part of a team because I get along well with the staff in the room I'm based at and we share ideas and help each other.
What is the biggest thing you've learnt and do you have any future aspirations?
The biggest thing I have learnt so far is to enjoy my role in the nursery and not stress myself to reach the level of other staff in the workplace. To enjoy, share ideas and take forward and implement in the nursery. My plans for the future are to complete my apprenticeship smoothly and continue to work at Hillfoot.
More about apprenticeships:
Apprenticeships
childcare
early years
practical experience
Similar Articles
How does winning our Nursery of the Year award benefit your nursery?
Nominate your nursery for the NDNA Nursery Awards 2024 Our prestigious nursery awards acknowledge, reward…
Read more
Birth to Five Matters: what is it?
What is Birth to Five Matters? According to Nancy Stewart – Early Years consultant, Project…
Read more