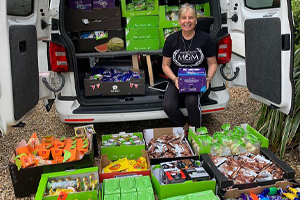 How nurseries supported families during the pandemic
We have been so inspired by your stories, photos and videos over the last few months. By sharing these, we hope other members can find ideas and tips too!
Supporting children and parents – Kidzrus, Salford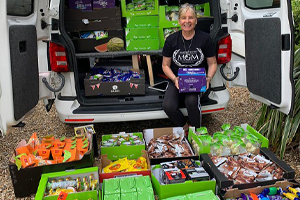 Kidzrus nurseries initially remained open during the crisis to care for key worker children, but closed due to low uptake and attendance and to minimise risk. During the closure, it regularly contacted parents to complete welfare checks and offer support.
It set up individual Facebook pages for each setting. The teams did an introduction with a series of photographs and videos, then posted a number of activity ideas such as yoga, arts and crafts and baking, and children received certificates for staying at home, washing hands and excellent behaviour.
The setting rolled out support sessions for toilet training at home, tooth brushing, meal planning, transitions to school and well-being guidance for parents. It also delivered book bundles to promote learning at home and held a Kidzrus Family Teddy Bears picnic day in April, delivering picnic boxes to families.
This was a great success and parents and staff posted photos, videos and also made Zoom calls. This helped the children to develop their language and communication skills and parents to form new relationships with each other and stay in regular contact. Staff delivered letters from the children and hampers of treats to care homes, to show appreciation and so children knew they were thinking of them.
As part of the VE Day Anniversary celebrations, each child received a Kidzrus Nursery activity pack that included an aeroplane, flags and bunting to colour in and make at home. The setting held a Stay at Home Street Party and again delivered picnic boxes to children. Mindful that many families were struggling and finding it difficult to go to the shops, Kidzrus extended the Kidzrus Family Food Bank.
This has had a huge impact and made a massive difference – feedback has been amazing! The setting organised a raffle and raised a substantial amount for the wonderful NHS staff at Salford Royal Hospital and have also donated much needed toiletries for the ICU staff. Children, staff and parents participated in Mental Health Awareness Week during May as well with children focused on being kind to each other and completing a series of kindness challenges and missions.
On 22 May, the third anniversary of the Manchester Arena attack, children drew bees in tribute to those affected, as the setting usually pays a visit to the centre of Manchester with a group of preschool children and lay a commemorative wreath.
Kidzrus nurseries may have seemed empty over this period but they are filled with the love that they have for each other.
Keeping in touch – Mother Goose Corner Nursery and Pre-School, Huntingdon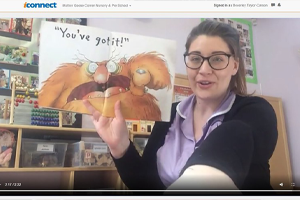 When life gives you lemons – which absolutely seems to be the case at the moment – make the most almighty lemonade you possibly can!
Mother Goose Corner Nursery and Pre-School is a family-run setting in the heart of Huntingdon which is really proud to have stayed open for key worker children, but having between nine and 15 children in per day as opposed to our usual 75 or so was definitely an adjustment.
As soon as the partial closure measures were enforced, the setting saw its role instantly diverge into two distinct paths: one, supporting those families who have continued to come into them, and the other, reaching out to the families they were no longer physically seeing each day.
This led to the setting to creating and launching its #keepintouch campaign, which offered not only online posts focused on providing actual activities parents at home can enjoy with their children, but also support for parents which recognises that for many of them, stay at home parenting is a totally new learning curve to go through.
Every day one of the practitioners who were still in and working used the online learning portal to post either something to watch and enjoy or a nursery activity adapted for the home. Posts included storytimes such as The Gruffalo and The Hairy Toe, a simple yoga session, a Makaton led circle time, a 'search and stamp' painting activity, and an outdoor bug hunt with an accompanying checklist.
As well as practitioner posts, the senior management team shared emails with ideas and 'hacks' to support parenting while at home, including articles on supporting good adult and child mental health while at home during the COVID-19 response, an online link to the 'What to Expect, and When' framework, and a family number exchange service so families and children could keep in touch with their peers as well at nursery.
To keep posts as varied and as interesting as possible, the team themed each day of the week, with 'Mental Health Mondays', 'Outside Tuesdays' and 'Challenge Fridays,' for example.
No one really knows what the future will bring at the moment, so all the while Mother Goose Corner Nursery & Pre-School can pro-actively work to keep its families and local community safe, supported and well, it will.
Nursery goes online – Inspirations Nurseries and Forest School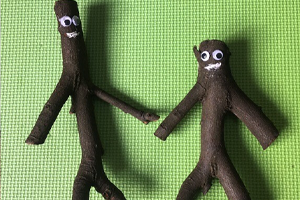 A nursery with branches in Horsforth and Adel found a way to continue to engage with registered children while they were unable to attend in person due to the coronavirus restrictions.
Inspirations Nurseries and Forest School has been committed to outdoor learning and also learning through play so despite the lockdown it wanted to try and help families with activities for their children through continued engagement with our curriculum.
The setting uses an online cloud based secure portal through which parents can access all their existing child's development resources and through this, the team have continued to encourage children with learning activities through this difficult period.
Deborah Keane, who under normal circumstances manages the Adel Nursery, coordinated this:
"It's been fantastic! Parents and children have really engaged with Tapestry which is our online learning journal. They also tell us what they have been doing through email, Instagram and Facebook.
"We have been encouraging the children to go outside and collect natural resources to use for our activities. Not all children will have the same art supplies at home but all children can collect similar natural resources. As we are a Reggio Emilia inspired nursery we would always use natural and upcycled materials whenever possible, and this way everyone can take part in our suggestions."
They found lots of sticks and used them to encourage exploration and investigation, as well as promote learning in all areas required within the EYFS framework.
They used them for measuring and ordering, counting, making 2D and 3D shapes and models, and recorded and posted the team reading the Stick Man and Stanley's Stick on YouTube with support for parents regarding open-ended storytelling questions and learning opportunities.
Lots of children shared their ideas and photos of the setting's 'Make a Stick Man' activity, and all these activities encouraged literacy, maths, physical development, creative arts, communication and language and as much social and emotional development as they can at these times.
The nursery also held a Zoom sing-a-long every Thursday with over 30 children.
Nursery Director Nicola MacGregor said:
"Sometimes necessity is the mother of invention… we are believers in outdoor learning and also Reggio Emilia which involves children learning through their own creativity. With restricted arrangements, we still see the chance for our children to continue their development at home. Our fun, play-based learning is a win-win for both parents and children".
Send us your experiences
It truly has been wonderful for the NDNA team to see the unflinching determination of our members throughout the pandemic. We encourage all members to tag us in social media posts so we can share them with fellow members and hopefully provide some more inspiration at this difficult time.
Tag us on Twitter: @ndnatalk, Facebook /ndna.org.uk and Instagram: @ndnatalk. You can also email us your photos to [email protected] or message us on Facebook whether it's activities to share or your experiences of using PPE, and managing communal spaces, we want to hear from you!
This piece originally appeared in the summer 2020 edition of Nursery News magazine.
childcare
communication
COVID-19
early years
keepintouch campaign
language
learning activities
supporting parents
Similar Articles
NDNA Nursery Awards 2024: Spotlight on last year's winner - Overall Nursery of the Year Award
With the NDNA Awards 2024 nominations kicking off to a great start this month, we…
Read more
Top tips for working with children under three
Fundamentally, practitioners need to know and understand how caring for young children and meeting their…
Read more